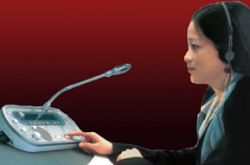 Seamless Events is a leading Kenyan Simultaneous Interpretation Equipment Rental house for Simultaneous Interpretation Equipments, Interpretation booths, general Audio-Visual equipment and videoconferencing components.
Therefore, Whether you need Simultaneous Interpretation Equipment Rental or rental equipment only, drop-off and set-up or full service with technical support, Seamless Events delivers every time at competitive rates.
So, We deliver to major Conference venues in Nairobi.
Rental Equipment Categories:
Simultaneous Interpretation Equipments
Interpretation Booths
Conference Microphone Systems
Wireless Push to Talk Microphones
Wired Push to Talk Microphones
Audience Response Systems
Professional Audio Equipment
Professional Video Equipments
LCD projectors and screens
What Makes Us Different
Seamless Events Solutions keeps a stock of up-to-date, well maintained rental equipment that can suit almost any conference service need. We keep our supplies current with the best solutions on the market and keep our rental stock in top shape. Everything is tested before leaving the warehouse and upon its return to ensure that each piece functions properly and everything is cleaned and warehoused in cases to enhance the equipment's dependability. From our niche products to our general AV equipment, we have the right product at the right price to get your job done.